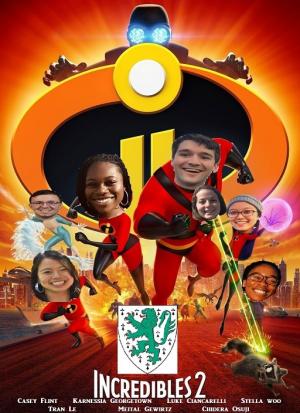 JE is delighted to announce 2018 - 2019 Fro-Cos!
Luke Ciancarelli '19

Luke is an English and Philosophy major from Lafayette, NJ. He's really interested in early modern philosophy, the poetry and aesthetics of the Romantic period, and the work of Shakespeare and Milton. Luke sings with and accompanies the Yale Glee Club, is president and co-founder of the Spenser Society, a poetry club dedicated to promoting new art on campus, and is also the treasurer for Hear Your Song, a student organization which gives hospitalized children the chance to become songwriters and hear their songs recorded. Luke has co-written multiple plays, the most recent of which was performed as part of the Yale Playwrights Festival. He also works as a freelance organist and pianist in New Jersey and Connecticut, and spends a lot of his time listening to jazz, classical, and classic soul music. If you happen to run into him playing pick-up soccer with a rag-tag band of hooligans on old campus, feel free to join in!

Luke's $0.02:

Love triumphs over all! If you ever feel yourself losing perspective or getting too stressed (at Yale or anywhere), remember how much more important love and the relationships built on it are then whatever it is that's weighing you down. 

Casey Flint '19

Casey, a chemical engineering major hailing from Savannah, GA, is looking forward to meeting the class of 2022!  A member of Naval ROTC, Casey is part of the Yale powerlifting club, and previously worked in the Transformative Materials & Devices lab as an undergrad researcher in photovoltaics.  In addition, he has been employed by the Yale Admissions office as both an engineering tour guide and Yale ambassador for Virginia high schools.  During his free time, Casey enjoys creating pottery, as well as curling up with hot tea and a good book.

Casey's $0.02:

Be selfish with your time and energy!  In the daily hustle of classes and assignments, it is often a common stereotype for Yalies to try to cram even more activities into their already-busy schedule.  No matter how many activities you try to be part of, just remember that there will still be several dozen more things you wish you had time to try.  Your first year on campus will be a time to explore new things, and you should take every advantage of this.  However, know that your own physical and mental wellbeing should take top priority.  By this, I mean ensuring that you are setting aside time for self-care and personal enjoyment/relaxation.

Karnessia Georgetown '19

Karnessia Georgetown is a proud native of Jackson, Mississippi majoring in Economics and pursuing a certificate in education studies. She has served as a Cultural Connections counselor, a communication and consent educator, and an event coordinator at the Af-Am house. She is also heavily involved with the urban debate league, Chi alpha christian fellowship, BCAY, and Delta Sigma theta sorority, inc.  If you want to win Karnessia's heart, ask her to get pad thai and smoothies with you.

Karnessia's $0.02:

You don't have to prove anything to anyone! You're here at Yale because you have something unique and valuable to offer that can't be 'boxed' out perfectly. It's tempting to feel the need to justify our presence in spaces like Yale. Constantly remind yourself that you belong here!

Meital Gewirtz '19

Meital is a Molecular, Cellular, Developmental Biology major from Minnesota. On campus she works as a tutor, takes part in research at the Yale school of medicine, and volunteers with local New Haven public schools. She enjoys spending time outside, reading books, good humor, and being with friends . This past semester, Meital was studying abroad in Jerusalem. She is so excited to return to campus in the fall to meet all of the new JE students!

Meital's $0.02:

Sometimes Yale can feel like a stressful place but try not to get caught up in this. Remember that your friends and FroCos are here to help you throughout. And most of all, enjoy yourself!!

Tran Le '19

Tran identifies as a first-generation, low-income Vietnamese American from Dallas and San Antonio, Texas, and is a Political Science major with a concentration in Education Policy. On campus, she is the Student Assistant for the Education Studies Program and was formerly Co-Captain of Jashan Bhangra (Yale's only competitive South Asian dance team). Her past work experience includes working in the Office of New Haven & State Affair's Pathways to Science Program, and at Wexler-Grant School as a 1st grade classroom teaching assistant. She has also interned at the U.S. Department of Education and the New York State Education Department. Tran's greatest loves are dancing, karaoke, ice-cream, Hot Cheetos, romantic-comedy movies, and contemporary romance novels. As a CC Counselor the past 2 years, she is so excited to finally be a JE FroCo and have first-year students to dote on all of senior year! 

Tran's $0.02:

There is no one way to do Yale. Don't 1) commit to something for any other reason than because you, yourself, truly want to, or 2) over-commit. In academics, extra-curriculars, and your social life altogether, it's very easy to do these two things because Yale has so many opportunities that you may want to take advantage of and so many amazing people that you may want to be friends with (and/or impress). But sometimes simplicity is key: do what makes you happy. And you might be thinking, wow, Tran - that's common sense, not $0.02 worth of wisdom. But sometimes, our happiness isn't our first priority, and that's when it gets hard to do. 

Chidera Osuji '19

Chidera mostly grew up in the metro-Atlanta area, though when she was younger she lived a few years in Nigeria where her family is from. A lover of cultures and interested in the ways identity and socioeconomic factors intersect, she is double majoring in Ethnicity, Race, and Migration and Economics. On campus, she has been heavily involved in the a cappella scene as a former member of Out of the Blue and a current member of Shades. She has also been an Advising Fellow with Matriculate, a Student Organizations Consultant at the Dean's Office, and held various on-campus jobs. In her free time she loves to read, dabble in different creative outlets, and watch choreography videos on YouTube. Chidera is looking forward to coming back to campus after having spent last semester studying abroad in Paris. Her favorite thing about Yale has been getting to know kind and passionate people so she is excited to meet the JE first-years!

Chidera's $0.02:

Keep an open mind and be honest with yourself. As is to be expected, a lot of first-years come in thinking that they have it all figured out and have an exact map of what their next few years will look like. Though having vision can be helpful in taking the first few steps, be careful not to let it dictate your whole experience if you find yourself inspired by other interests. The best parts of Yale are often the most unexpected - unexpected acquaintances turned friends, unexpected roadblocks turned pathways, and unexpected opportunities turned passions. Find (or stumble upon) what you like or even love and don't be afraid to let some things go. Be open to the joys and challenges that will be presented to you, so that you can make the most out of your unique Yale experience.

Stella Woo '19

Stella thinks of herself as Alaskan, not because her ancestors are from there per se, but because she was shaped so profoundly by living there for the last 15 years. Thanks to Alaska, she loves hikes, long road trips, diverse public schools, mountains, salmon, environmental sustainability, and wintery winters. She is an East Asian studies major concentrating on East Asian sociocultural anthropology because she loves learning the languages, cultures, and landscapes of East Asia. Though frankly, she would just as happily learn about the places and the lives of people anywhere in the world. She is passionate about social justice in education, which led her to informally complete much of the academic requirements for the education studies program at Yale as well as a teaching internship. As a senior returning to Yale after a gap year abroad, she is exited to meet and work with amazing JE students, old and new.

Stella's $0.02:

I would say give yourself opportunities to be deeply thoughtful at Yale. Thoughtful of what you want to achieve for example, or how you want to be kind to others and yourself. Particularly, I'd encourage thoughtfulness in how you approach and reconstruct what/how you think, including continually evaluating and reevaluating what it means to make yourself more successful or more happy. Practically this can mean a lot of different things. It can mean giving yourself opportunities to connect with people very different from you, trying out something new that you are clueless about but have always had a vague interest in, spending much more time in the dining hall than is necessary for a meal, taking long walks off campus, or having heart to hearts with your friends or frocos!