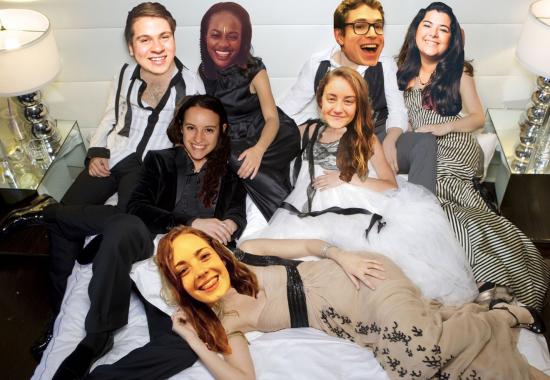 Front and center Head FroCo, Sarah Naco
Middle row, left to right Rachel Strodel and Sunday Swett
Back row, left to right Jacob Rodriquez, Olubusayo Alofe, Luis Fernando Machado Poletti Valle and Stephanie Reynolds Ramos
JE is delighted to announce 2017 - 2018 Fro-Cos! 
  Sarah Naco '18
Head FroCo, Sarah is a born and bred Aussie, hailing from the capital, Canberra (not Sydney!). Despite her lacking an Australian accent, which these days sounds increasingly American, she is a proud lover of vegemite, tim tams and beaches. Majoring in history of science, medicine and public health, Sarah is interested in public and global health. Although, her internship in London this summer where she's helping make a documentary for National Geographic is making her realise a career in documentary filmmaking would be really cool, plus she could indulge her passion for travel. Beyond her love of watching documentaries, Sarah is an avid lover of food…all food. A self-declared expert on New Haven's restaurant scene, she is more than happy to suggest places to eat/accompany anyone feeling like an adventure off campus. Sarah is also a member of Yale Steppin' Out, which is difficult to explain (Dancing without music because we make the music by hitting ourselves? Sounds interesting…), so you'll just have to join or come to one of our shows! And finally and most importantly, Sarah is an avid lover of JE. Having worked in the buttery and as a college aide (seriously the best job on campus), Sarah cannot wait to meet and live with JE's newest family members.
Sarah's $0.02
First year at Yale is an exciting time with so many opportunities presented to you, it is both overwhelming and exhilarating. What I wish someone had told me as a first year is that there is no 'right' way to do Yale. There's no magic formula for the classes you should take, and the extra curriculums you must do in order to be successful and/or happy. The truth is that your four years at Yale are an incredibly personal journey where you are going to learn things about yourself you didn't even know there were to discover. Do what you want to do. Take the classes that you want to take. Similarly, if you want to walk onto the crew team, you go and try-out. If you can't wait to get involved with acapella, go and rush. If your ideal Friday night is hanging out with friends playing board games, you can do that! This is your time, do what excites you. And if you don't know what that is yet, go out and explore; Yale is such a diverse, fun, creative, varied community, there really is something for everyone.

 Olubusayo (Grace) Alofe '18
Grace is a Molecular, Cellular, and Developmental Biology major with academic interests (formerly read: double major) in Ethnicity, Race, and Migration and African American Studies, which inspired her studies abroad. At Yale, she's a member of WORD performance poetry, is President of the Black Solidarity Conference at Yale, and works as head tour guide. She will argue forever that potatoes, and thus french fries, count as vegetables. She spends most of her free time doing cultural research in the form of binge-watching Shonda Rhimes's latest and greatest tv shows. If you're ever looking for her, you can probably find her in a lab or the Af-Am House.
Grace's $0.02
Be ready to forgive yourself at the start of your first year (and the rest of your college career/life). It can be easy to get frustrated if (when) things don't go your way, but try to be patient with yourself and those around you as you figure out what your Yale will look like. Don't be afraid to leave whatever path you or your loved ones have carved out for you, and jump into something new and scary! This is the perfect time to do this, because you have a network of support that extends further than you'll ever know. Also, try to spend time with communities that you don't traditionally identify with! This could be in the form of a club, cultural house, or anything in between. I've definitely learned the most in spaces that were unfamiliar to me, and have constantly been surprised by how willing people are to share their experiences.
   Stephanie Reynolds Ramos '18
Stephanie is a Political Science major, who has dabbled in psychology, marketing and taking way more language credits than she needed. Hailing from San Juan, Puerto Rico, she was not prepared for winter in New Haven, but has ~somewhat~ grown accustomed to it. Outside of class, she is part of Camp Kesem (a student-led summer camp for children whose parents have been affected by cancer) and works at the School of Management. She is also a member of the JE College Council and the JE Social Activities Committee because JE is hands down the best college around. Additionally, she is passionate about Netflix original series and the Yale 50% discount at Papa Johns. She feels most at home in the JE dining hall, so if you ever need to find that is a good place to start. 
Stephanie's $0.02
*Eat long meals: spend a little too much time in the dining hall hanging out with friends and taking a break from your work.This is how I made some of my best friends at Yale. It's important to remember that you're human and you need a break sometimes, there's nothing wrong with that. Watch a movie with your suitemates, go explore New Haven, get to know people across the firedoor in Farnam, have a picnic on Old Campus, play some ping pong in the buttery. Make time for this kind of thing- it's so important. 
*Ask for help- it will make your life a lot easier! 
*Take fun classes- you don't need to have anything figured out right now so just explore, you never know what it could lead to. 
*Froco pizza is honestly one of the best parts of being in JE so take advantage of it! 
*Don't be a stranger- come hang in the Froco suite! 
  Jacob Rodriquez '18
Jacob is a Colorado native and pursuing a double major in Economics and French. Jacob is an avid theatre maker and the former Production Officer of the Dramat, on the men's club volleyball team, and the Director of Fundraising for Yale Model Congress. He has also spent a few summers abroad in France and tutors French. In his free time, he enjoys cooking, hiking and watching bad movies with friends. In his not-so-free time, he can be found working in Taft with black coffee in hand or emailing in some dark corner of a theatre on campus.
Jacob's $0.02
Find a few extracurriculars you are really passionate about (or ones you've never tried before but always wanted to) and get involved. It's important to find extracurriculars that fulfill different roles in your day to day life. Some extracurriculars will give you skills that will help you later in life or projects that are time consuming but incredibly rewarding, while others will provide a break or a change of pace from classwork. Finding a balance can be difficult but so rewarding. Some of my best friends and most memorable experiences at Yale have been through theatre, volleyball, and model congress.

  Rachel Strodel '18
Rachel is a podcast enthusiast who hails from Lexington, Massachusetts. She is so excited to welcome the JE class of 2021 to campus! Although she originally thought she was going to major in English at Yale, Rachel ended up studying Molecular, Cellular, and Developmental Biology and is a member of the Global Health Studies program. At Yale, she continued to pursue her love for writing by serving in various editorial roles for the Yale Herald, most recently as editor-in-chief. In her spare time, Rachel enjoys running, biking, and volunteering at a free clinic for uninsured New Haven residents. Come talk to Rachel if you're interested in journalism, health policy, or want to know where to find really good coffee in New Haven!
Rachel's $0.02
You don't have to have your life path figured out right when you step foot on Old Campus for the first time. Give yourself room to grow and change! Push yourself to try something you would have never considered before. Also, don't be afraid to make connections—whether that's with your peers or with professors. For a lot of my first semester at Yale, I was terrified of asking for help from my teachers. It took me a while to see my professors as just people—and as people who genuinely wanted to support me and help me as I went through this phase of life. 

  Sunday Swett '18
Sunday is from the great state of New Hampshire and thereby takes very seriously the motto "live free or die". She is an Astrophysics wannabe and an Environmental History major so you will often find her stressing about all the reading she hasn't done and all the papers she has to do! Outside of class, she's a member of the women's varsity tennis team, counselor for Camp Kesem, and as president of the JE college council she does her best to keep JE the most admired and desired residential college since it's founding. What you won't find on her resume is her love for hiking, ice cream, and her three dogs Tess, Tebow, and Topsy. 
Sunday's $0.02
As a freshman, I felt like I was always intimidated and nervous to speak up in class or say something at meetings whether it was for tennis, clubs, or for group projects. Just because it's your first year doesn't mean you should feel like you should have less of a voice. Your perspective is not only refreshing but important and I am sure that I will learn as much from you as you (hopefully) learn from me!

 Luis Fernando Machado Poletti Valle '18 
Luis (first name basis already!) is an Astrophysics major from São Paulo, Brazil, where he lived his entire life before coming to Yale. (As his major suggests, Luis is eager to meet all the *stellar* members of JE 2021.) While he is still used to the warm Brazilian sun, he also appreciates the actual seasons New Haven has to offer. At Yale, one can often find Luis Waltzing with his Ballroom Family, voluntary teaching with Splash, or enjoying his favorite milkshakes at Yorkside. He can also be spotted hanging out in the JE Buttery, where he is always down for a game of pool or a savory Slywich. Come talk to Luis about any of the above (and more!), but if you want a question to start with, you can ask him about his favorite dance(s) or his thoughts on the new Brazilian soccer team.
Luis' $0.02
Put yourself out there. The challenges that come with moving to College make it very easy for you to stay within your comfort zone, in the areas or activities you already know quite well - and that is perfectly fine! But do make sure you try something new every once in a while - after all, you never know when you will stumble upon your next passion. Giving a chance to dancing and performing, which I never thought of before coming to College, has truly been one of the best decisions I made while at Yale!