Head of College W. Mark Saltzman
For an appointment, please email the Assistant to the HOC - diane.cusack@yale.edu.  
Dean's Office
The Dean's office is located in the Administrative Suite, which are open from 8:30-5:00 weekdays.
Administrative Staff
The Administrative Suite is located through the main entrance to the Great Hall (Dining Rm), turn left in the hallway and up a short flights of stairs.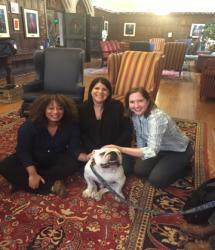 Gygi Jennings, Operations Manager (left), Diane Cusack, Assistant to the HOC (middle), Jill Haines, Assistant to the Dean (right), Handsome Dan (front and center)