JE is delighted to announce 2020 - 2021 Fro-Cos!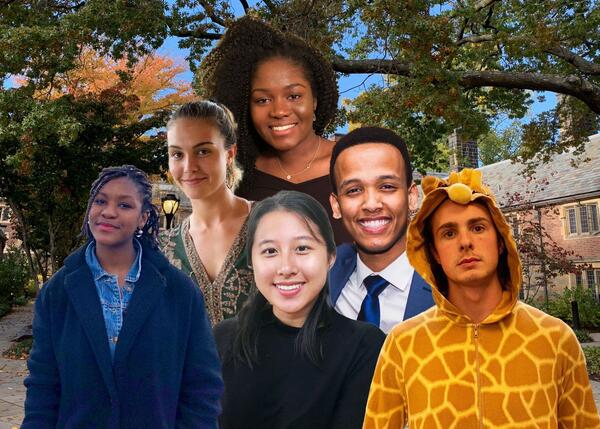 Chika Ogbejesi

Head FroCo, Chika (she/her/hers) is a bit of a local coming from Madison, CT, a town about 20 

minutes from Yale that makes New Haven seem like New York in comparison. Academically, 

she studies Neuroscience, is pre-med, and may pursue a certificate in Spanish (check-in on this 

at graduation). Beyond the classroom, she has spent much of her time engaged with various 

communities on campus including the Black/Nigerian community at the House, the STEM 

community as a former participant and mentor for the Science, Technology, and Research 

Scholars (STARS) program, and of course the JE community as a college aide, housing 

counselor, and IM player. Additionally, she cares about health holistically so she served as the 

president and treasurer of the Crisis Text Line at Yale, volunteered at Yale New Haven Hospital, 

and will be spending this upcoming year working on a health tech startup she co-founded with 

fellow JE seniors. This year you'll also likely catch her dancing or giggling in the JE courtyard so 

feel free to join in whenever you want! She is very excited to meet the first-years and hear about 

all of the interests you have (particularly any good shows you've watched or funny memes 

you've seen)!

Chika's $0.02: 

Leave your shame at the door. Where you came from no longer controls where you're going. Your first 

year is a time where a lot of mistakes will be made but also where lessons will be learned, lifelong 

friendships will begin, and great moments will be experienced. Take it all in stride and be sure to reflect 

on your experience along the way. And don't be afraid to be bold!

Fiona Asbury (she/her/hers) is from Potomac, MD—just outside of Washington, D.C. She is an 

Economics and East Asian Studies (China concentration) double major. Learning Chinese has 

been the highlight of Fiona's academic life at Yale, and she has been able to travel with the 

Light Fellowship twice: one summer in Beijing and one gap year in Taipei. Originally a member 

of the Class of 2020, she is excited to embark on what feels like a bonus year of her college 

experience (and a unique one, at that)! 

Fiona has been involved in a variety of extra curriculars on campus, but as an Air Force ROTC 

cadet, she spends much of her time mentoring cadets from Yale and other universities. She also 

hopes a few first-years will join her on JE college council, one of the best parts of JE! 

Fiona loves swimming, hiking, biking, and being outdoors, so she sincerely hopes some of her 

first-years are down for some socially-distanced walks to East Rock! But if not, she is just as 

happy staying in and watching the highly acclaimed "worst movies in cinematic history."

 

Fiona's $0.02: 

Your first year will offer a plethora of opportunities, and you are going to want to experience as 

much as you can. It's exciting! Take the time to explore, to integrate yourself in new 

communities, to 

learn new skills. But once you're immersed in all these things, it's important to 

take a step back and re 

evaluate. Sometimes the way you spend your time doesn't reflect the 

things you value most. It's easy to get 

stuck in the activities you committed to early in your first-

year or to feel overwhelmed as your time is 

claimed by groups you don't find fulfilling. But it's 

okay to take ownership of your time, and it's never too 

late to make changes. You are going to 

change as a person, and your interests may change with you!

Nathalie Beauchamps

Nathalie (she/hers) is from Randolph, NJ and she won't stop talking about how much she loves her state. 

She considers Jersey bagels a close second to her list of favorite foods, the first being anything her mom 

cooks. Nathalie is an Economics and Political science double major with a concentration in French. Her 

love for French stems from her Haitian roots (both of her parents are Haitian immigrants) and it also 

took her all the way to Paris (at least for half a semester before the pandemic turned the world upside 

down)! Nathalie loves playing violin for the Davenport Pops orchestra, coaching for the Urban Debate 

league, and initiated a chapter organization at Yale called Women Everywhere Believe which is a 

mentorship program for girls of color in the New Haven community. She also served as a Yale College 

Council senator during her sophomore year. Nathalie loves long and aimless conversations, reading, and 

breakout dance sessions and is always looking for more people do join her in doing so. She is most 

proud of the friends she made in Jonathan Edwards, and she hopes JE can do the same for her first-

years. Nathalie is immensely excited to spend the year getting to know the Class of 2024!

Nathalie's $0.02: 

Do not compare yourself to others! It is of course very energizing to be motivated, inspired, or 

enlightened by your peers around you. This is a beautiful phenomenon that will occur naturally during 

your time spent at Yale. This comes as no surprise, as Yale is a small space filled with amazingly talented 

people. You are amongst them! If I have learned anything from comparing, however, it is that holding 

yourself certain standards because the people around you have achieved certain things is not only 

unnecessary, but totally exhausting. It is simply impossible to be the best at everything and in trying to 

be, you will only spread yourself too thin. On technique I've learned to become mindful of the habit of 

comparing is to practice self-empathy. You are only one person. Give yourself a break. Moreover, when 

you begin to compare yourself to others, you hold yourself to standards that are almost impossible to 

achieve. This is because you are operating under pressure, rather than from passion, which is what 

should be driving your endeavors. Once you table the habit of comparing, it becomes a lot easier to 

celebrate others' successes and to even be motivated by them. Your best bet is to find what you're 

passionate about and pursue it! And it's okay if you don't discern your passions in the next couple of 

years or even in the next couple of decades. Yale is just one step in your journey of doing so.

Matt LaMirande

 

Matt (he/him/his) comes from the rural Midwest fields of Dresser, Wisconsin. In the classroom, he 

studies History, focusing on American political and legal history. Outside of academics, he has been 

involved with a cappella as a part of The Society of Orpheus and Bacchus, GED tutoring through the 

Yale 

Undergraduate Prison Project, and working 

as a shelving assistant in Sterling Memorial Library 

and as a 

JE College Aide. In his free time, he enjoys running, reading about the Supreme Court, discovering new 

music, and binging shows on Netflix (he has many recommendations). He cannot wait to meet the Class 

of 2024 (even if he can't discern facial expressions beneath masks)!

Matt's $0.02: The biggest thing I learned in my first year at Yale is that it's absolutely necessary to set aside time to destress and unwind. If you're stressed all the time and laser focused on academics 24/7, you miss so many opportunities to make friends and live a healthy life. As my first year wore on, I designated a two-hour slot every day dedicated solely to non-academic work, whether that be hanging out with friends, watching a show on netflix, learning new music for my a cappella group, or going on a long run. By maintaining a healthy balance between relaxation and my academics, I found it much easier to focus on my studies when the time came to buckle down, and generally enjoyed my classes more.

Hang Nguyen

Hang (she/her/hers) was born and raised in a small city in south Vietnam, where her parents ran a sweet potatoes business(!) When she was 11, her family moved to Tampa, Florida, where she spent her formative years and grew into the person that she is today — a Florida woman. She is premed and majoring in Molecular, Cellular, and Developmental Biology. Outside of her research at a cell biology lab, Hang is involved with A Leg Even, a first-generation/low-income group on campus. She also volunteers at the pediatric Oncology Unit at Yale-New Haven Hospital and at the New Haven Legal Assistance Association as a legal translator. Hang enjoys painting, adding chili pepper to everything, and drinking cold brew coffee for breakfast, lunch, and dinner. She can't wait to meet the Class of 2024!

Hang's $0.02: You don't have to finish all the requirements for your major by the end of your first year, or sophomore year, or junior year, or even the first semester of your senior year! Give yourself time to take fun classes, explore New Haven, watch that movie, sleep in until noon, stay up until the birds start chirping, or do nothing. Don't feel ashamed or guilty to relax, to rest, or to just be present.

Raajii Daniel

Raajii (he/him/his) was born in Saint Paul, Minnesota after his parents immigrated from Ethiopia. 

He is a first-generation college student studying Economics and he is 

interested in improving 

financial literacy for lower-income communities. On-campus, Raajii has served as the Co-

President of the Black Student Alliance at Yale as well as a Peer Liasion for the Afro-American 

Cultural Center. He has spent most of his summers working in Equity Research and Wealth

Management. 

You can often find Raajii on-campus dancing to one of his Spotify playlists. He loves watching 

Netflix and talking about his favorite shows with others. Raajii is looking forward to getting to 

know the First-Years and to serve as a resource to make their transition to Yale easier.

Raajii's $0.02: 

Try not to overwork yourself! It's important to find a balance between your school work and 

mental health. Also, try to utilize all of the resources available to you! The JE FroCos and Dean 

are here to help you, so never be afraid to come to us with questions. Use your first year at Yale 

to gauge your interests and passions! Enjoy yourself and make the most of your time.