JE is delighted to announce 2023 - 2024 Fro-Cos! 
Valerie Ambriz-Villela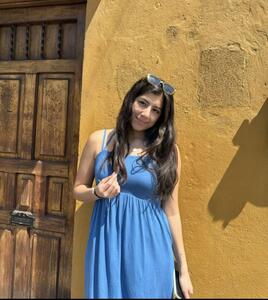 Valerie (she/her) is from the suburbs of Atlanta, Georgia. She is majoring in Ethnicity, Race, and Migration with a Certificate in Education Studies. During her time at Yale, Valerie has served as a college advisor for high school students through Matriculate, has been co-editor in chief of Broads Recognition (the best publication on campus), has been involved in Danceworks, and has worked at Bass library. For the past summers, Valerie has worked as a teacher for kids ranging from kindergarten to 8th grade, which reflects her passion for teaching and working with kids. In her free time, she loves to read (non-
academic fun books), exercise, travel, talk about her cats, and try new restaurants. Valerie is very excited to meet the class of 2027 and to welcome them into the best community on campus, JE!!
Valerie's $0.02: It's ok to say no and rest! Just because everyone is doing everything and anything doesn't mean that you have to. Don't spread yourself too thin — it's ok to say no to a commitment (whether personal or academic) so that you can take a break.
Astri Doub

Hi everyone! I'm originally from Baltimore, MD and currently studying Applied Math and Comparative Literature. At Yale, I've tried out a bunch of different activities including working at Tsai City, Economics research, Women in Economics, Curling, and Ultimate Frisbee! 
Astri's $0.02: Coming into first year just remember to have fun! Try out classes that sound engaging and activities that excite you! We are looking forward to helping you along the way!
Kaise Dualeh

Kaise Dualeh is a senior majoring in Global Affairs and pursuing a certificate in Human Rights through Yale Law School. He previously served as president of the Yale International Relations Association, the largest undergraduate student organization on campus, and volunteers as a VITA Tax Preparer. In his free time, he enjoys watching Premier League football and basketball, hosting HBO show watch parties, and eating Arethusa ice cream.
 
Kaise's $0.02: It's easy sometimes to become comfortable with the friend groups made in the first few months of first year. My advice: never stop trying to make new connections. There are so many interesting people at this school who you will never truly get to know if you keep yourself closed off.
 
Robby Hill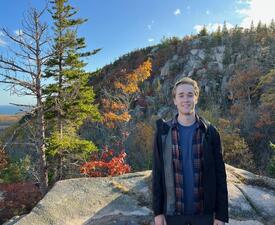 Robby (he/him) is from Easthampton, MA, and although he's only lived in New Haven for four years, he's proud to call the Elm City home, too. At Yale, Robby studies Ethics, Politics, and Economics with a Certificate in Human Rights. He's taken classes across nineteen different departments, so he's happy to speak with first-years about many of the must-take courses you can find in the catalog. Outside of class, Robby sang in the Yale Glee Club, served as Secretary of the JE College Council (JECC), and conducted economics research at the Yale School of Management. He's also been a First-Year Outdoor Orientation Trips (FOOT) leader, a project coordinator for the Yale Undergraduate Prison Project's Advocacy Division, and a teacher for Splash! at Yale. One of the highlights of Robby's Yale career, however, has been his involvement off-campus: he's worked on housing reform campaigns at the Connecticut state legislature with DesegregateCT and participated in New Haven's 2035 comprehensive planning process. Robby loves walkable urbanism, his friends and family, and advising first-years (in no particular order), and he can't wait to welcome the JE frosh to campus. JE SUX!
Robby's $0.02: Get to know New Haven! Literally explore—grab a friend and walk around the City without a purpose. Downtown, East Rock, and Wooster Square are all great, but it would be a shame to limit your time here to just those three areas. Take a stroll along the Quinnipiac River in Fair Haven, check out the Sunday Farmers' Market in Westville, try bakeries in Newhallville, and meet whoever you can along the way. I think one of the best things you can do is to consider yourself not just a student at Yale, but a citizen of New Haven. Yale is wonderful and the campus is beautiful, but some of the best learning you'll do will come from getting out of the "Yale Bubble." New Haven's pizza is great, but it also has a lot more to offer. 
Taylor Russ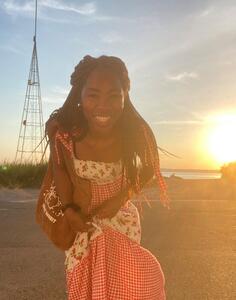 Taylor is a rising senior from Madison, Mississippi who has lived her entire life in the South. She is majoring in the History of Science, Medicine, and Public Health on the Gender, Reproduction, and the Body pathway. 
At Yale, she's worked as an Academic Strategies Mentor, an ONEXYS Coach, and an Assistant in the Student Accessibility Services Office. When not on campus, she volunteers at Sunrise Cafe, helps fellow FGLI students apply to college through Matriculate, and mentors elementary students in math. After teaching a course last summer about the History of Vaccines, Taylor dreams of becoming a professor where she can weave together her love for teaching with her love of medical history. When free from academic responsibilities, you can find Taylor reading books from the '70s, baking without a recipe, or doing jigsaw puzzles on the common room floor (y'all are free to join her if you want). She also has a list of every restaurant in New Haven that she's been slowly, but surely chipping her way through if you want recommendations. She's excited to meet all of you and cannot wait to make this year one for the history books.  
Taylor's $0.02: 
Make sure to live in the moment. It's easy to get stuck focusing on the future so please remember: You are at Yale! It's your job to take advantage of anything and everything as long as it doesn't get you arrested. Enroll in that art history course even if you pre-med, ask that professor for a cup of coffee to talk about their research, and join the tap-dancing club although you have two left feet! You only have one first year of college and it ends faster than you imagine. Make sure it's memorable for something other than the midterms.
Lolyn Tejeda Lemus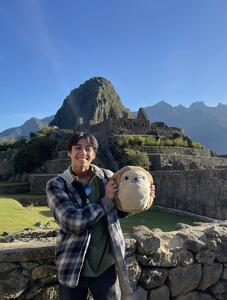 Lolyn Tejeda Lemus (he/him) is from the Central Valley of Northern California. More precisely, he is from the "Apricot Capital of the World," Patterson, CA! Lolyn is double majoring in Ecology & Evolutionary Biology and Earth & Planetary Sciences in which his studies have focused on the influence of earth and climate processes on evolutionary trends and extinctions. Lolyn works two on-campus jobs as a student manager in the JE dining hall and as a research assistant in the Muñoz Lab, investigating the phylogenies, evolution, and physiologies of salamanders. Through his time at Yale, Lolyn has been President for HOSA-Future Health Professionals at Yale and played libero for the Yale Men's Club Volleyball team. In his free time, Lolyn can be found watching bad horror movies, dancing salsa/cumbias with friends, or speedrunning a new language on Duolingo. Lolyn is super excited to meet the class of 2027 and welcome them to their new life as a bulldog and a spider
Lolyn's $0.02:  Never close an open mind. The myriad of clubs and organizations on campus can get overwhelming, but remember that you have four years to experience it all. That said, the commitments you make in the first few weeks should not limit the rest of your first-year, or time in undergrad for that matter. On a similar note, some of my favorite memories at Yale have been the result of friends convincing me to try activities I otherwise would not have. Take advantage of the new friends you make as they introduce you to new worlds, cultures, environments, and people.
Joy Yun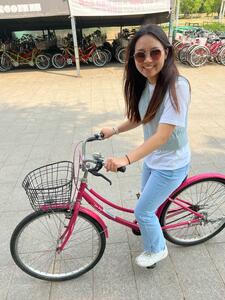 Joy (she/her) was born in South Korea and grew up for most of her life in Fort Worth, Texas (which is, as Joy likes to remind you, the 12th largest city in the U.S.). She is a JE senior double majoring in Neuroscience and Religious Studies with a Certificate in Education Studies.
Joy is absolutely ecstatic to meet you all and show you all the beautiful things here at your new home :) On campus, she is involved with KASY (Korean American Students at Yale), Matriculate, Elmseed Consulting, and Kappa Kappa Gamma. She is also involved with Christian groups and research at her neurodegenerative disease lab. As a former Peer Liaison for Yale's Asian American Cultural Center (AACC), she often hangs out at the cultural center. In her free time, Joy loves to procrastinate on homework by binge-watching kdramas, listening to kpop, reading tear-jerking books, going on (very) long walks, and baking macarons. But her favorite pastime is spending quality time with people - she's always down to grab a meal or coffee/tea and talk about life! Just as she knows you all are excited to begin your journey here at Yale, Joy can't wait to get to know each and every one of you very soon! Please feel free to reach out to her anytime to chat, ask for advice, or share life updates :D
Joy's $0.02: Explore Yale and new hobbies during your first year! No, seriously. You all have worked so hard to get to this point, and you should relax and open yourself up to new possibilities! The magical thing about your first year is that no one expects anything from you and you are free to take up fun clubs and try out new hobbies. It should be the year in which you explore your interests and meet cool people :)