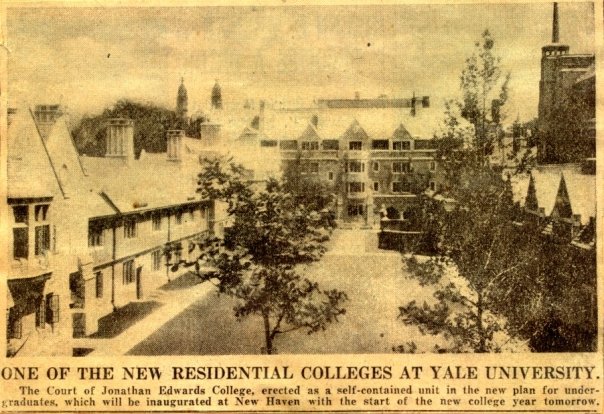 In 1931, University administration borrowed a housing idea from Oxford and Cambridge, the two leading British Universities. The result was a development plan that forever changed the face of Yale College: the Residential College System.
The year 1932 saw the construction of the first of the original seven residential quadrangles under the direction of architect James Gamble Rodgers. Simple as that, Jonathan Edwards College, named for the child prodigy Yale alumnus (1720) and arguably the greatest theologian of The Great Awakening came into its glorious being.
Jonathan Edwards College began during the academic year 1932-33 when Professor Robert Dudley French, the first Master, appointed eight members of the faculty to be the first fellows of the College. These men were chosen because they combined distinction in both teaching and scholarship, and because of their individuality and diversity of interests. As a corporate body they constituted the essential qualities of and intimate collegiate community, delighting in the pursuit of knowledge and in the vigorous exchange of ideas, not only among themselves, but with the undergraduates who joined them in the fall of 1933 when the college opened their doors.
Together with the first Master they established a pattern for one of Yale's smallest Colleges, designed to encourage individuality and provide a forum where each could express ideas and beliefs in the company of Fellows and fellow students, both old and young.
Namesake
Yale's first and foremost child prodigy, Jonathan Edwards matriculated at Yale (then Collegiate School of Connecticut) in 1716 just before reaching 13. At this time, entrance into college required fluency in Latin, Greek, and Hebrew. Four years and one intense conversion later, he graduated as valedictorian, received his Masters of Divinity from Yale in 1722 and went on to become one of America's most renowned theologians and philosophers, and a testimony to Yale's mind-altering powers.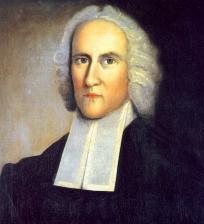 Our Motto: JE SUX!
Find out why here.
Badge and Crest
The badge is a red apple surrounded by a green serpent.
The coat of arms described in heraldic terms is: ermine, a lion rampant vert (green).
To find out more about our badge and crest and our mascot, the spider, click here.
It is interesting to note…
In 1932, upon the eve of Yale's fall semester, which residential College does the New York Times single out as the most beautiful, the most harmonious, the apotheosis of Universities? Jonathan Edwards.
Our own child prodigy Jonathan Edwards left quite a prodigious legacy indeed. Jonathan Edwards is the only residential college at Yale whose patriarch has graced the pages of Ripley's Believe It or Not.